Basketball Pro Management 2015 Download
Size: 492 MB
Genre: Simulation, Sport, Strategy
Description:
In Basketball Pro Management 2015 you will take control of your own basketball team! It's your job to take it to the top of the rankings by managing a wide variety of parameters including the composition of your starting five, training, transfers, objectives and, of course, finances!
Many tactical choices that affect each game are possible, with detail that will please the shrewdest of tacticians. You can even create your own game systems, and for the novice coaches, be able to let your playmaker decide on part of the tactics to be adopted, will also be at ease.
You can replay the games in 2D or in 3D to refine your strategy during and after the games. Thanks to the database editor, players are even allowed to custom their game and add new players.
If you do not know the rules or the basic tactics of Basketball, do not worry, the game includes a tutorial with all the basics of Basketball available at any time.
***
Now in its fourth year, Basketball Pro Management 2015 introduces numerous features and improvements. Among these upgrades, managers this year can look forward to more challenging and tactically-minded AI opponents, enhanced recruiting, and a refreshed league-satisfaction system.
In addition to rankings and budgets, an effective manager has to plan for the growth of individual players and the team's performance. Recruiting has been redesigned to offer significantly more depth through the addition of league-specific regulations, including leagues from North America, China, Turkey, and many more worldwide.
Running a successful team takes more than good coaching skills. Team-rank, performance against rivals, and a wide variety of other parameters all affect the support you receive from fans and owners, and in turn, the income from tickets and stadium shops. Manage your goals wisely. After all, the most competitive players don't come cheap.
Features:
---
Manage everything from recruitment to finances, and training to coaching.
43 playable leagues, including six women's leagues.
New: International competitions (e.g. Olympics, World Cup)
New: Six national competitions added (including China, Great Britain, Australia and Lebanon)
13,000+ players and 1,600+ teams, all customizable in the database editor.
Set training schedules to focus and guide player-growth.
Plan your tactics and change them on the fly during the game.
2D and new 3D game simulations.
Screenshot of Basketball Pro Management 2015 [www.gamesena.com]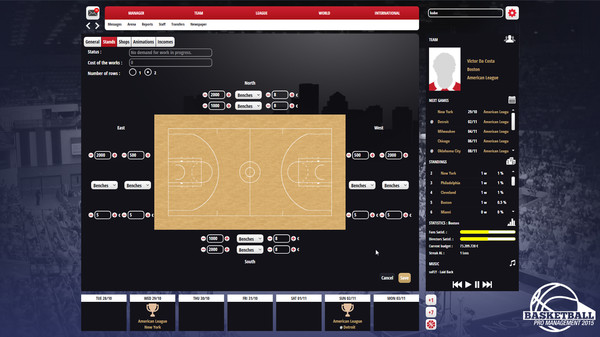 Minimum System Requirements:
OS: Win8 / Win 7 / Vista
Processor: Intel Core 2 Quad, Intel Core i3, AMD Phenom, Athlon X4
Memory: 2 GB RAM
Graphics: Ati 5870, Nvidia Geforce 460
DirectX: Version 11
Hard Drive: 2 GB available space
How to Install Basketball Pro Management 2015 [Gamesena.com]
Unrar with winRAR
Burn or mount the image
Install the game – remember to create at least one shortcut
Copy over the cracked content from the /Crack directory on the image to your game install directory
Play the game by using the shortcut
Note: If you like this game, please buy it!
Basketball Pro Management 2015 Download
Basketball Pro Management 2015 Download
Basketball Pro Management 2015 Download
Download Basketball Pro Management 2015 [
Gamesena.com
]
Full Version
with
Fastest Download Links
.
Download Game
Basketball Pro Management 2015 [Gamesena.com]
Free